Post by Lee Mcintosh
"I am so grateful for the love. Thank you Chicago for selling out my first ever show at THE UNITED CENTER"
-Chance The Rapper, via Instagram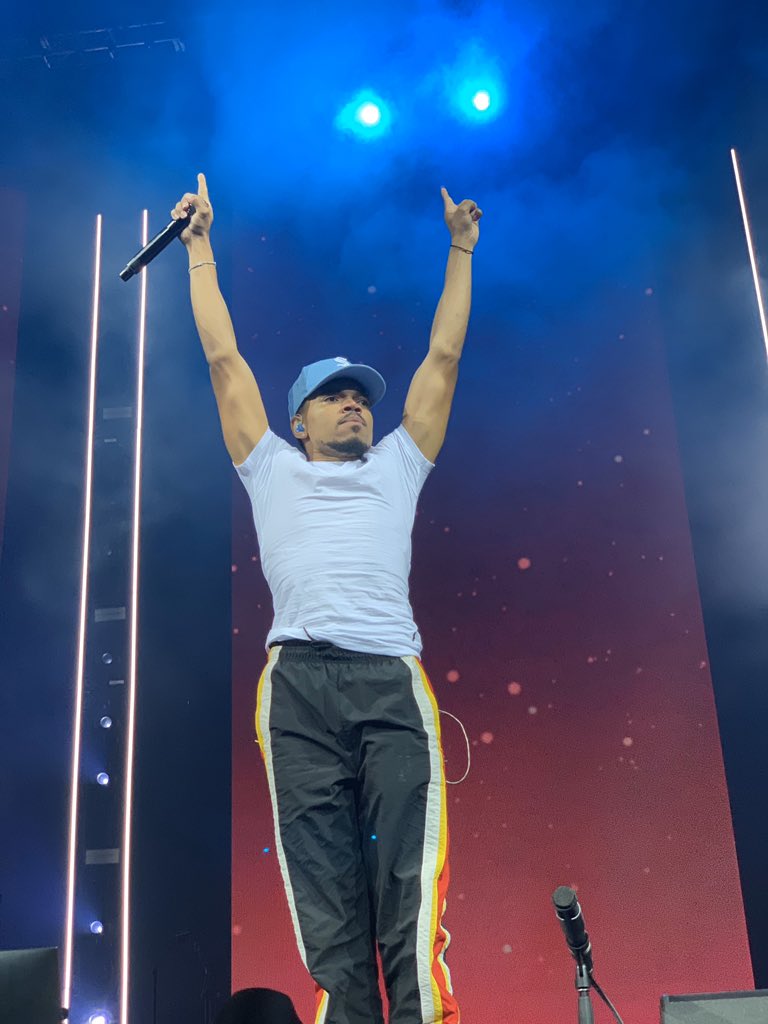 Image via Twitter
One of the greatest joys that any fan could have is being part of a city that has major cultural impact. Sports, artists, fashion, architecture and all. In terms of music, there are a handful of cities across the country that have been consistently feeding the culture year after year. LA is responsible for legends like NWA, Dr. Dre, The Game and Kendrick Lamar. New York being the birth of hip-hop brought us legends such as Biggie, Wu-Tang and Dipset. Of course, the south has been providing to a sound that is still dominant today with Trap Music. At last, there is the great city of Chicago providing us with legendary artists like Common, Kanye West, Lupe Fiasco, and none other than–Chance The Rapper.
For those who have been fans of Lyrical Lemonade since day one, you would be well aware that we have been covering Chance's come up for years now. To see him blossom into the star that he is today has been nothing but amazing to be able to witness first hand. Leaving your footprint behind in an impactful manner is not something that is easily obtainable, especially coming from a city that has birthed the legendary Kanye West. How can anyone top a legacy like that? Although Chance may feel as if he has a long way to go, to us fans here in Chicago, he has already proven how special he is not only to our city, but to the world. From his monumental and record-breaking Lollapalooza headlining performance in 2014, to his Magnificent Coloring Day festival (the first-ever festival to be held at U.S. Cellular Field) in 2016, Chance has officially worked himself into becoming a true hometown hero. Now selling out his first-ever show at the United Center, home of the Chicago Bulls and Blackhawks, he provided the city with a night that we will never forget.
—
Pre-Tour
Chance has had a lot to celebrate for this year. He married his childhood sweetheart Kirsten Corley (now known as Bennett) in March of this year, released his debut album The Big Day in July, and welcomed their second daughter Marli earlier this month. Not to mention all of his other endeavors as well — Social Works and many other charity events. With so much going on, Chance realized his life was moving at the speed of light and he needed to slow down and smell the roses. As a result, he made the announcement that he decided to push the tour back all the way in January to allow him time to spend with his wife and his newborn daughter. He stated that when his firstborn Kensli was born, he went on tour for two weeks and missed key moments of her life, stating that he "can't make that mistake again". Expecting a lot of backlash, instead he was welcomed with lot of love and understanding as he decided to take that step to be there for his family. However, he decided to keep only four shows: Life is Beautiful fest, iHeart Music fest, Miami Beach Pop fest, and last but certainly not least, his show at the United Center in his hometown of Chicago Illinois.
https://www.instagram.com/p/B2M7VQhgYyP/?utm_source=ig_web_copy_link
—
The Big BIG Day
Only a few days before the show, Chance revealed the updated tour dates which included Lil Yachty and his blood brother Taylor Bennett as the openers. For the Chicago show, however, Lil Yachty was not in attendance, making it a special night where two brothers from 79th can tear the stage down from the comfort of their hometown for the very first time in their lives. Fans swarmed the halls of the United Center, most wearing throwback shirts from Chance's old shows and festivals as well as exclusive Swarovski-studded Owbum shirts from The Big Store popup this summer. Fans knew that Chance had something special planned considering this is one of the biggest nights of his life, but no one knew exactly what he had up his sleeve.
The show started off with a DJ set from Chicago's own DJ Oreo. He was able to keep the energy high the whole night until the show began, giving that feeling of a true house party. The night then begun with an extraordinary set from Taylor Bennett. His stage design was plain and simple with his trademark "BE YOURSELF." letters being his only stage setting, and a single vertical screen behind him playing an animated version of Taylor running through all of life's obstacles. He kept the crowd rocking the whole set, performing his hits from his latest project The American Reject, his 2018 EP Be Yourself and many more. The songs that really set it off was "Rock N Roll" and his throwback track "Broad Shoulders". Many people had things to say about Taylor being the opening act for the tour, saying he only got it because he was "Chance's brother," but nonetheless, he still put on an amazing set and an even greater introduction to set the tour off on the right foot. Every fan was front and center and had everyone's undecided attention. This being his first-ever major performance and in his own city, the love was definitely real. Thank you Taylor Bennett for keeping the energy high, being so charismatic, and setting the night off right.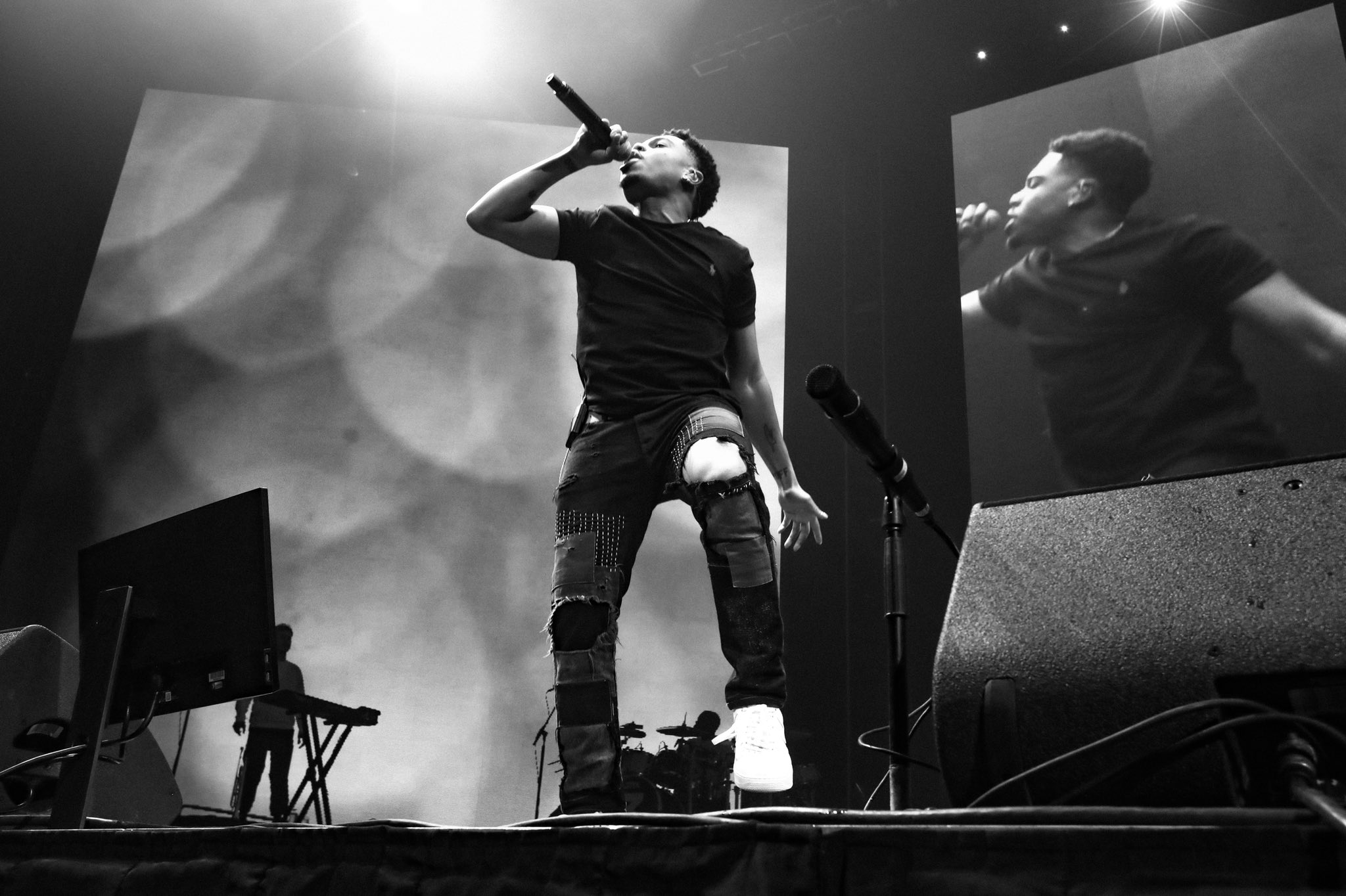 Image via Twitter
Right before we thought Chance was coming out, fans were awarded with a surprise impromptu performance from MadeInTyo. Short and sweet, yet still effective to keep the crowd going from Taylor's energetic performance. He performed the hits of his, those being "Uber Everywhere", "Skateboard P" and "I Want". At the end of his set, he gave a small story about how Chance said that if he ever needed a favor, he has his back for life. That being said, Chance bringing him out on one of the key performances of his tour was a huge look for MadeInTyo, and it was the beginning of the surprises that Chance had up his sleeve for the night.
Still feeling the energy from Taylor's dynamic performance, it was time for Chance The Rapper to come out. Fans screamed as the lights shut off and old home videos played of Chance during his childhood. At last, Chance runs out to open the show with the biggest hit of his career, "No Problem".  Seeing that chance was wearing nothing other than a plain white tee and joggers, we knew that Chance was in his element, sticking to his roots of keeping it simple. However, the stage design was far from simple. Each song of his set had a different backdrop, fireworks and pyro shot off at random times, and Chance danced and hopped around the stage the entire night, never showing a sign of fatigue or becoming bored.
By far, one of the biggest moments of the night was the legendary surprise guest Chance brought out. Only three songs into his set, Chance performed "All We Got," the intro to his 2016 mixtape Coloring Book. During the outro to the song, a muffled auto-tuned voice plays in the background that is not Chance's. We were beyond shocked to see none other than Kanye West walking up the stage to close the song with his "we know, we know we got it". The entire stadium shouted and chanted, in disbelief that we would ever see Kanye pop up at Chance's show. There were rumors of Kanye coming out, but no one was quite sure. At the same time, though, there was no way Kanye could be in Chicago and not touch down at Chance's show, and sure enough, he made it happen. After receiving a standing ovation he let off a simple one-liner, reminding us all that "Jesus Christ is king" as he then left the stage to attend his listening party later that night at the Auditorium Theatre.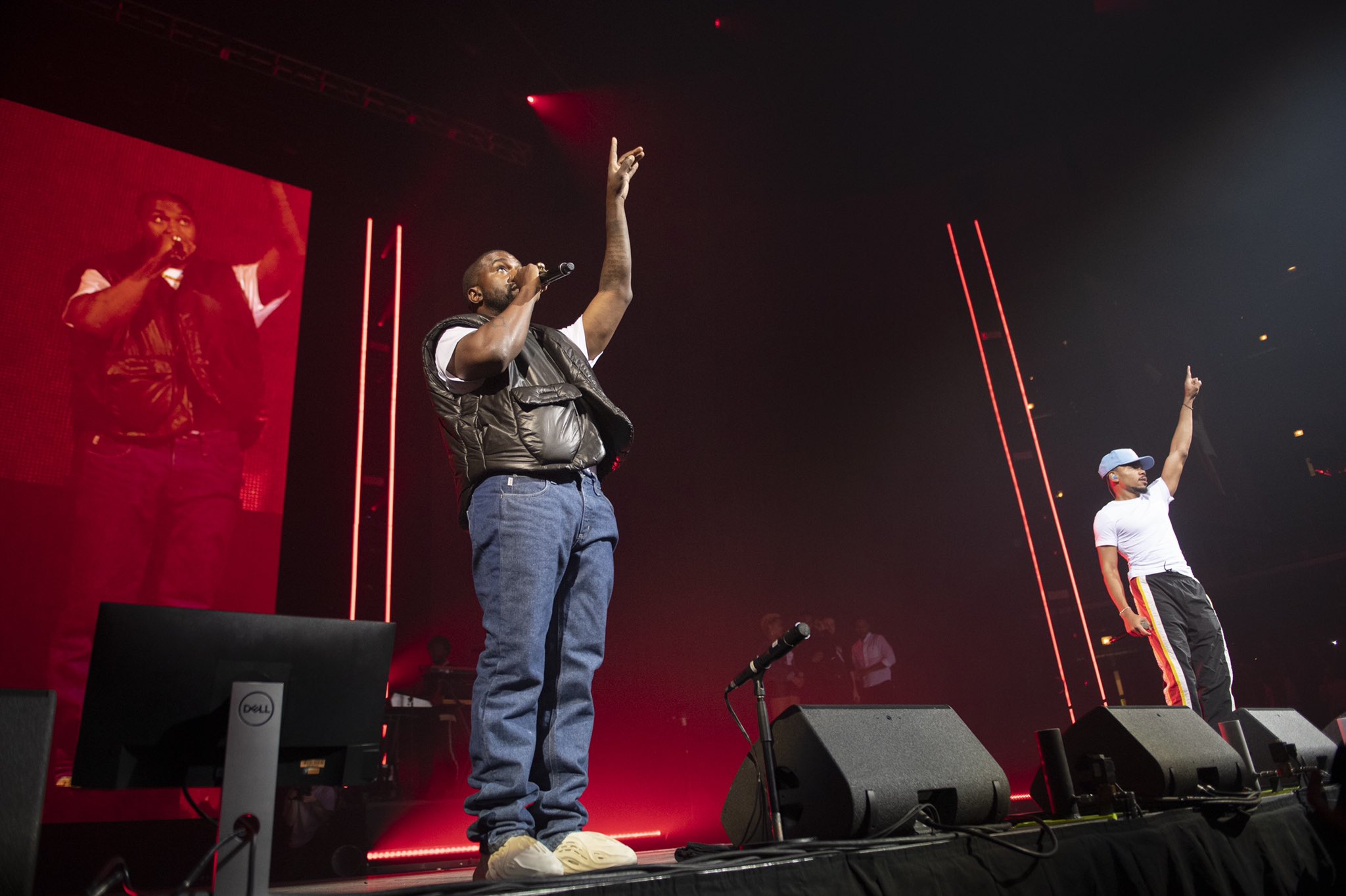 Image via Billboard
Another highlight of the show was during the performance of his song "Hot Shower" where he brought out a lot of beach-themed props and threw giant beach balls in the crowd for fans to throw around. He was even joined by The FutureKingz, a young group of talented dancers who have been featured on America's Got Talent and have frequently performed with Chance in the past. As if this performance couldn't get any more Chi Town, Benny The Bull (mascot of the Chicago Bulls) joined Chance on stage to do his natural theatrics and mimicking Chance's dance moves. Everyone knows Chance loves to dance, and Benny the Bull loves to dance even more, so to see these two on stage living their best life was honestly one of the happiest moments in Chicago history, and fans couldn't help but crack a smile.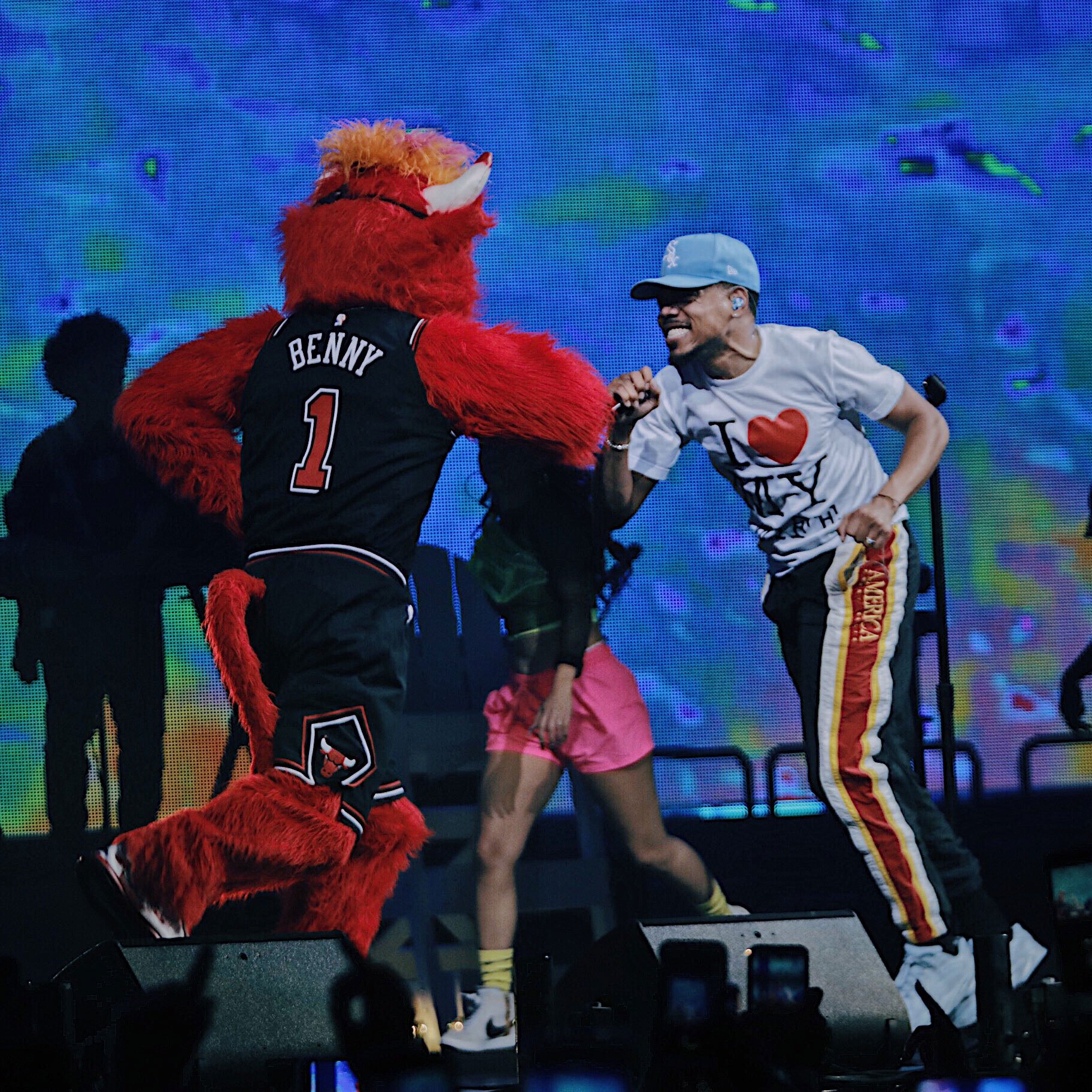 During an intermission in the show, the lights dim as Chance prepares for the next song of his set when all of a sudden the buildup to "Turn Down For What" starts playing and Benny The Bull enters the crowd to do his iconic popcorn dance (for those who may not know, during every home game, Benny The Bull walks through the audience and bumps his way past fans, all while carrying an enormously large bag of popcorn. After the beat drops, he "spills" it over the fans and lets off a dance and interacts with the fans in the audience). Normally, anyone getting a huge bag of popcorn dumped on them would be pretty upset, however, no one can be mad at the bull.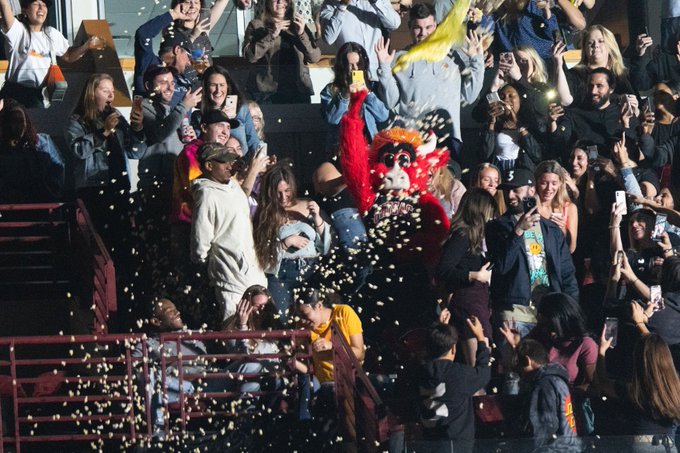 As you can see, Chance really knows how to have a party and put on a show for his fans. On the other hand, he knows how to get in touch and get sentimental with fans as well. During his song "Interlude (That's Love)" from his mixtape Acid Rap, he got really personal with the fans letting us know how thankful he is for us. During this point in his set, he also took the time to shoutout his wife Kirsten, who was also in attendance that night with their first-born, Kensli. It's one thing to be able to make your fans jump around and have a good time, but to be able to gain a personal connection with thousands of fans at once during a show, now that's love.
The mood eventually picked back up as Chance performed more of his upbeat tracks again to get the party going once more. His song "Handsome" was the one to do it, and he even kept in Megan Thee Stallion's verse despite her not being there to perform it. Another part of this set included Chance doing covers of his most popular features, that being "Baby Bue" with Action Bronson, "I'm The One" with DJ Khaled, and the iconic "Ultralight Beam" with Kanye West. Fans awaited anxiously to see if Kanye would come out once again to perform "Ultralight Beam" with Chance, but he had already left the venue by that point. Nonetheless, this was a great point during the set.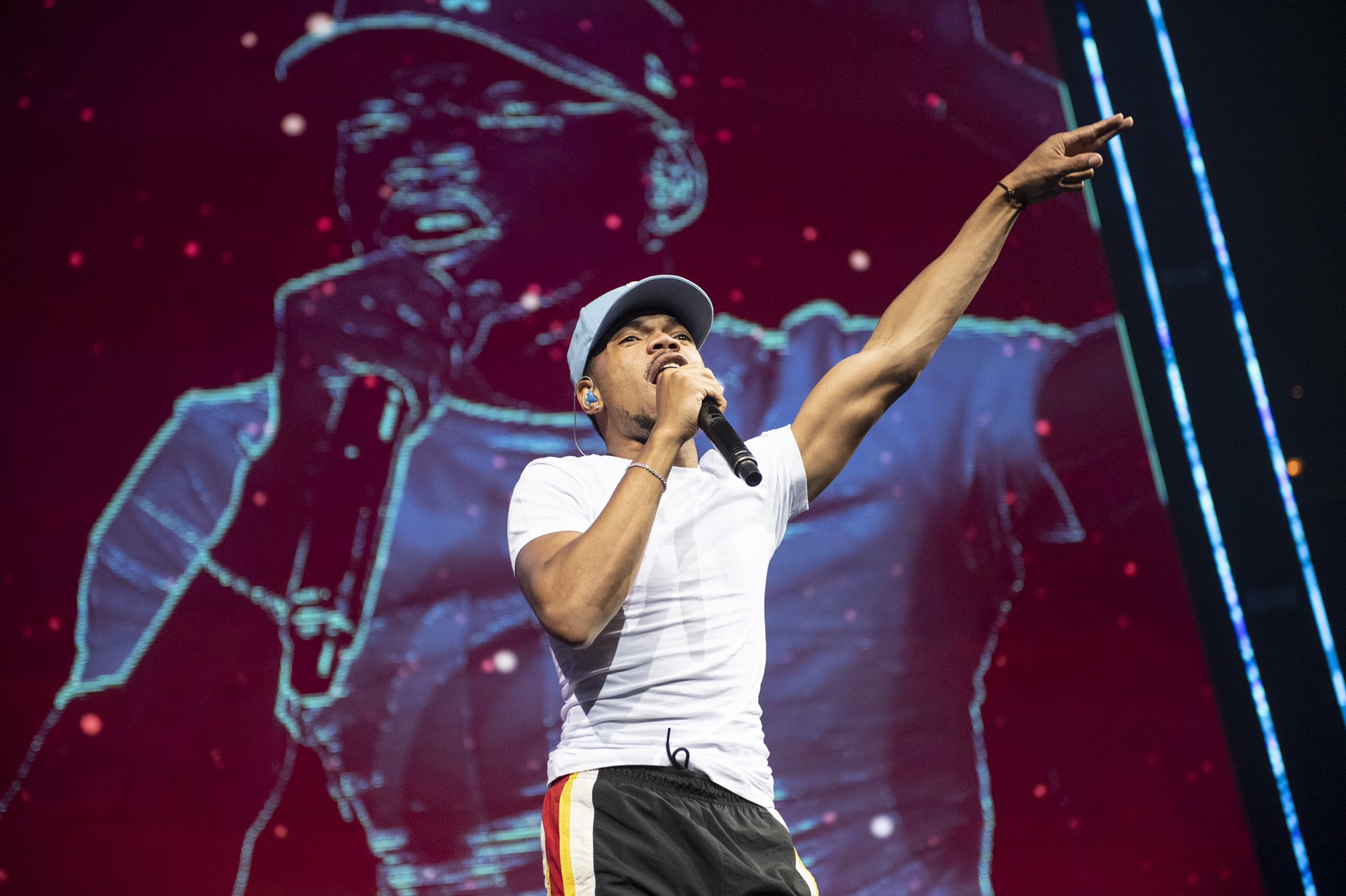 The final moments of the set got even better, with Chance giving us one last dance show before the night end. "Ballin' Flossin'" from his album The Big Day got Chance in his bag as he let off a flurry of dance moves. And as if the show hadn't seen enough Chicago, he let off even more when he danced to classic house music. House music has been a trademark in Chicago for many years, so for Chance to bring this vibe to the show really ended the night on a high note. At one point, he even hit the Percolator — a lot of the old house heads would appreciate that one.
When it's all said, and done, all good things must come to an end, and to end the night off right, Chance concluded his show with "Blessings" from his Grammy award-winning mixtape Coloring Book. Fireworks and confetti burst into the crowd as he let off one last thank you speech before heading off the stage for the last time of the night.
—
My letter to you Chance, I just want to thank you. Thank you for always being yourself. Thank you for always staying humble. Thank you for never switching up on us, even when the odds were against you. Thank you for always putting the city first. Thank you for always providing us with a good time. Thank you for making us smile. Thank you for giving us hope in this evil world we live in. Thank you for never being greedy and always doing what's best for the city of Chicago and the world. Thank you for blessing the world with your presence, artistry, and love.
Thank you Chance the Rapper and Taylor Bennett for giving Chicago one of the best nights we have seen in such a long time. This night will go down in Chicago history because of you two. I thank you. The fans thank you. Lyrical Lemonade thanks you. The world thanks you.
Thank you, Lil' Chano from 79th.
Post by Lee Mcintosh